Bill Burton knows what it feels like to have a bullet whiz by your head.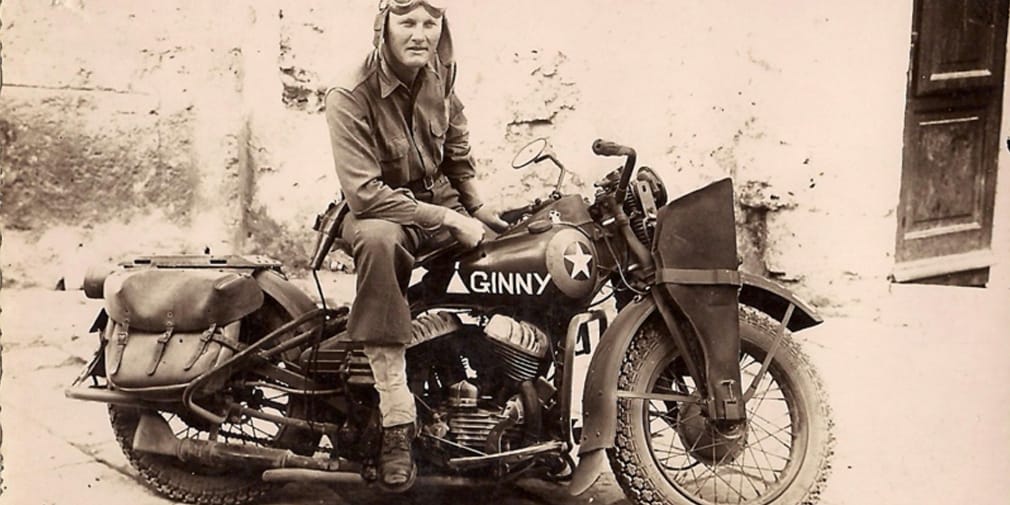 "It makes a little whispering sound. A little wind will come from it, too. I know about that," said the 89-year-old veteran.
A corporal in the U.S. Army during World War II, Burton was visiting the Barber Vintage Motorsports Museum, in Birmingham, Ala., recently, when he saw a 1942 Harley Davidson WLA, identical to the one he rode in North Africa and Sicily.
"I was sure I saw this motorcycle in a storage building on this property on TV," Burton said. "I just had to see it again. There's about four of these motorcycles on the other floor. I just figured that maybe one of them has been painted over."
It's possible that it could be the one, according to the museum's technical adviser, Brian Slark.
"When we bought them, they were already painted; they were already finished," he said. "Who knows? They're 60-70 years old, you never know."
Standing next to the military Harley — the same vintage as his "Ginny" — Burton looked on with a mix of nostalgia and pride. "I feel like I could get up on it, crank it up and take off," he said. Burton rode three motorcycles during his service, but "Ginny" was his favorite. When he was issued the bike, it already wore the name, which happened to be his mother's name.
Burton said he was 16 when he went off to war, falsifying the paperwork. "My mom wouldn't sign it, but my daddy did. He scribbled her name on there and went on."
Of the 12 children in his family, only a deaf sister didn't serve. He said he told his mother she should get a medal for having so many kids who served.
The museum is home to more than 1,300 motorcycles and contains the largest vintage Lotus racecar collection in North America. George Barber, an Alabama native, began collecting motorcycles 24 years ago. The collection grew over the years, and The Barber Museum became the largest philanthropic project taken on by an individual in the history of the state.
The museum is a working exhibit. On the lower level, technicians spend their workweek restoring vehicles to near-original condition. Virtually every vehicle on display can be ready to drive within an hour. As members and guests walk through automotive history, they hear the sound of machines being brought back to life.
Outside on the racetrack, cars and motorcycles are heard and seen racing on most days and weekends as part of the 830-acre motorsports park.
Burton, of nearby Bessemer, Ala., shared his war stories with family members and museum staff.
"I could tell you things, some bad ones and some good ones. I could write a book. I'm 89 years old, not too old for anything," he said.
Burton said that after the war he had an opportunity to buy another Harley, but his wife gave him an ultimatum.
"I carried it down to the house, and she looked at that thing, she said, 'It's either me or the motorcycle — which one do you want?' And I got to thinking about that, I hadn't been married for long, and I said, 'heck, I better take this thing back to that man,'" Burton said.
The museum's executive director Jeff Ray was enthusiastic about Burton's visit and believes the museum holds many more stories.
"Every motorcycle here had a rider, and every car here had a driver," Ray said. "This means each exhibit offers its own unique story. The stories are what bring life to this place, and we have an incredible collection that we're excited to share."
Burton stood next to the 1942 Harley, surrounded by dozens of other military motorcycles in the Barber collection.
"I loved that motorcycle … still do."