Guinness World Records just named the Barber Vintage Motorsports Museum the "Largest Motorcycle Museum" in the world. The 144,000-square-foot, five-story museum is home to nearly 1,400 motorcycles, of which about 700 are on exhibit.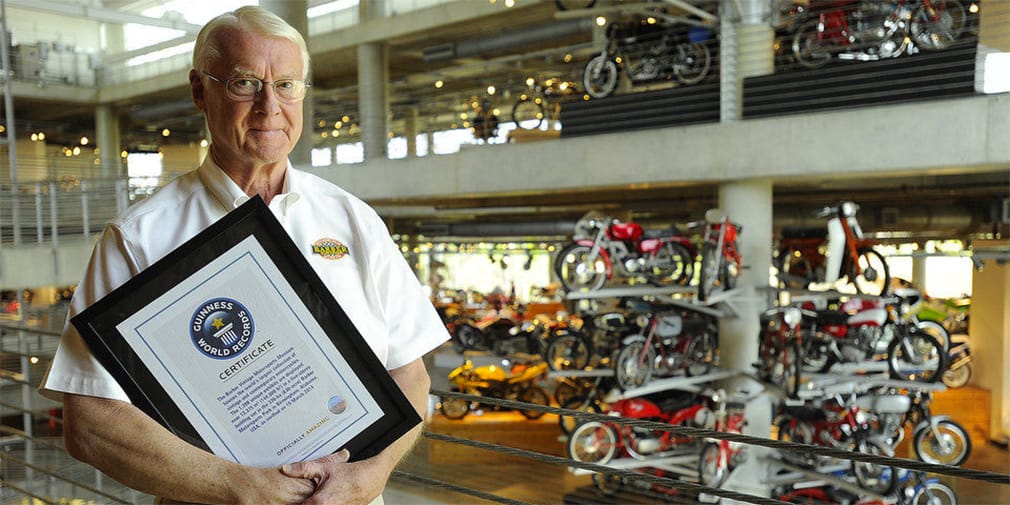 The museum opened in its current location at the 830-acre Barber Motorsports Park in 2003. George Barber, Alabama native and third-generation owner of Barber Dairies, began collecting motorcycles 24 years ago. The Barber Museum is a 501(c)(3) Not For Profit Foundation and is considered the largest philanthropic project taken on by an individual in the history of Alabama.
"It's great to be recognized by Guinness as the world's largest motorcycle museum because it puts Alabama on the map in an interesting and unique way," said Barber. The destination, often referred to as the "Augusta of Motorsports," has brought in over $1.17 billion to Alabama during the past decade. Barber says he hopes the Guinness recognition will help the museum continue to add value by driving additional tourism to the state. "The museum provides a wonderful experience for visitors. It draws people to Alabama. We're proud to have earned the recognition."
The museum's executive director, Jeff Ray, says the framed certificate from Guinness will be displayed in the lobby of the Barber Museum. Ray says he had chosen to announce the Barber Museum's new Guinness title today, during the 2014 Honda Indy Car Grand Prix of Alabama, as a way of highlighting the racing event and the museum.
"The park and museum bring large crowds during the weekend of Indy Car. What better time to make this announcement than during one of our largest annual events," said Ray. "The Barber Vintage Festival brought in 61,000 guests last October and is set to attract an even larger crowd this year, but we felt like this was something big enough that we couldn't wait until October to announce it."
According to London, England-based Guinness World Records Ltd, "The Barber Vintage Motorsports Museum houses the world's largest collection of vintage and contemporary motorcycles. The 1,398 unique exhibits are displayed over 13,375 m2 (144,000 ft2) in a five-storey building set in the 336-ha (830-acre) Barber Motorsports Park in Birmingham, Alabama, USA, as verified on 19 March 2014."