THE CHASE, Sculptures by Ted Gall
Sculptor Ted Gall's riveting stainless steel monuments on the front lawn of the Barber Museum were installed prior to the museum's opening at Barber Motorsports Park in 2003. "The Chase" took Gall over a year to create, with each one of the three sculptures cast as 28 separate pieces that were then welded together. Once assembled, each statue was ground out and finished with a protective chemical patina. You might find it interesting to know that the three sculptures that comprise "The Chase" collectively weigh close to five tons!
Gall's intention is for people to come up with their own opinions as to the meaning of his art. He has his own opinions about "The Chase," having made connections between the sport of racing – and how it is tied to motion, strength, and integrity. Smaller versions of Gall's "Chase" sculptures are available for purchase in the gift shop located inside the Barber Museum.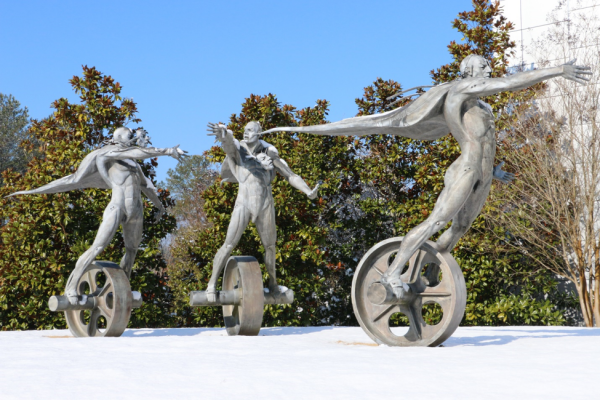 METAL FLOWERS, Sculptures by William Colburn
Sculptor William Colburn cultivates his art organically, without the use of automated or commercial equipment. This is one of the many elements of his metalwork that made its installation at Barber Motorsports Park especially appealing. Being a park where you'll find uniqueness at every turn, it's the perfect place for 18 metal flowers that Colburn designed to never wilt.
Colburn is a Birmingham native who lives and works in Fairhope, Alabama.
Branko Medenica

The many gates that surround the track were created by Branko Medenica. Branko also created the Horsepower sculpture that looks over the park near Lot D.
Kinetic Sculpture: Edward Lee Hendricks
There are a number of water features in Barber Motorsports Park, including creeks, waterfalls, lakes, and ponds, which can serve as landmarks in the park and along Perimeter Road. Along this route, once you have passed the Fan Zone, the pond located ahead on your left has become an especially notable landmark, as a very unique sculpture has been installed behind it.
The installed piece is a beautifully formed and fascinatingly functional kinetic, wind-powered sculpture, created by the renowned artist, Edward Lee Hendricks. Hendricks' work exhibits balance and movement and is aptly located at Barber Motorsports Park—a place where great esteem is placed on the subjects of motion, forces, and energy.
Hendricks was born in 1952 in Charleston, West Virginia. Prior to receiving his Master of Fine Arts degree from the University of North Carolina at Chapel Hill, he attended college at the nearby Birmingham-Southern College. Hendricks has held countless one person exhibitions at galleries and museums around the nation, and he continues to create stunning pieces in his studio-residence in Texas. Another fine example of one of his many large-scale art commissions can also be seen at Alabama's Birmingham International Airport.