OCTOBER 9, 10 & 11, 2020
AHRMA Racing at the Barber Vintage Festival
Be a Part of Vintage Racing at Barber Motorsports Park
Vintage road-racing motorcycles will take to the track for exciting competition—from 1920s-era hand-shifter V-twins—to booming Grand Prix single-cylinder machines. This is something you definitely have to see and hear to believe! There's fun for fans of off-road racing as well, with vintage trials competitions and cross-country racing through the woods.
The American Historical Racing Motorcycle Association (AHRMA) is the leading vintage racing group in North America with about 4,000 members. Visit AHRMA's website to learn more about racing at Barber Motorsports Park during the 16th Annual Barber Vintage Festival Presented by BMW Motorrad.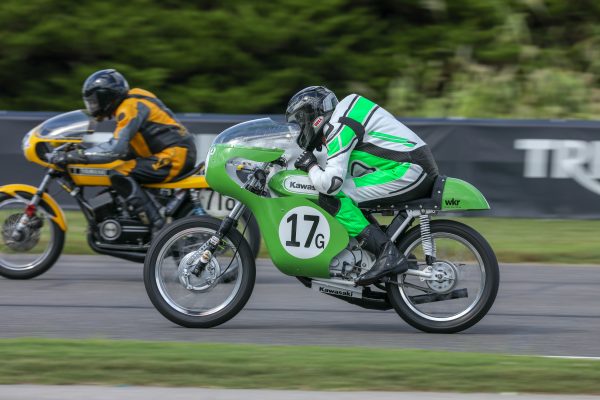 The 3rd Annual Handshift Shoot-Out featuring Harley vs. Indian motorcycles
Racers will feature double-barrel action with back-to-back weekend racing October 10 and 11, 2020 at the 16th Barber Vintage Festival, pitting Harley vs. Indian handshift 45 cubic-inch flathead racebikes. Separate shootouts will be held on Saturday and Sunday, tentatively scheduled for lunchtime.
Each day, riders will draw for grid position and compete in a three-lap heat race. The rider with the best combined 2-day score will be declared champion and receive a special trophy.
To qualify to race, riders must:
Hold, at minimum, a weekend membership with AHRMA;
Have a valid racing license with an approved motorcycle roadracing sanctioning body;
Have successfully raced at least 1 event with that sanctioning body during the current racing season;
Complete practice scheduled exclusively for shootout participants first session after lunch on Friday (you must be registered as a Handshifter Shootout competitor and have a Handshifter Shootout sticker to be eligible to participate in this practice session);
Pay a $20 exhibition class entry fee (good for SHOOTOUT practice ONLY and both days of racing);
Must pass Handshifter Tech (please contact Tony Pentecost at ahrma@oneracing.org or 256.506.8254 for further information); and
Wear AHRMA approved personal safety gear (please review Rule 3.4.2 in the 2020 AHRMA Handbook found at ahrma.org/ahrma-handbook)