Check Out the Barber Vintage Festival Attractions
October 6, 7, & 8, 2023
Plenty of Things to Enjoy!
Barber Vintage Festival is one of the most highly anticipated motorcycle events in the world. The three-day festival features the Fan Zone with commercial vendors, concessions and entertainment; a Swap Meet with hundreds of vendors selling vintage motorcycles and parts; the VJMC gathering, and more! You can read more about these attractions below. The Barber Vintage Motorsports Museum also features extended hours as well as seminars hosted by celebrity guest speakers. Be sure to check out what's going on in the Museum when you're not in the Park!
Paddock
Be sure to stop in the paddock to meet the racers and check out the different bike setups. Paddock access is complimentary during the Barber Vintage Festival and gives you an inside scoop on all the track action. Remember to step out at tram stop 5 and check out all the action. *signed waiver required
Wall of Death
The American Motor Drome Company's Wall of Death is a vintage, live-action thrill show featuring a silo-shaped wooden cylinder 30 feet in diameter. Inside the drome, motorcycle daredevils travel along the vertical wall performing track, fancy and acrobatic riding. The show features antique Indian and Harley-Davidson motorcycles along with hand built 4-wheeled racing machines. Fans can see the show in the Fan Zone at the top of the 14 foot board wall, where you'll be able to smell the rubber burn and feel the wind as the motorcycles race just inches from you! If you are riding the complimentary tram, make sure to get off at Tram Stop 2 to watch the Wall of Death show in the Fan Zone.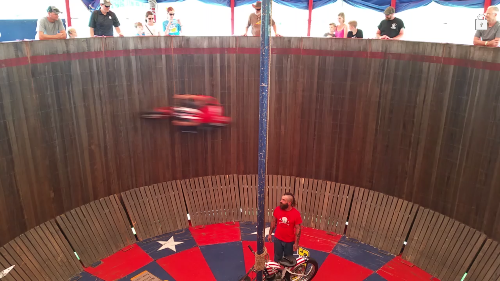 Demo Rides

Come out to the Twin Buildings located adjacent to Lot D to take a ride on one of the demo bikes from manufacturers including BMW Motorrad, Zero Motorcycles, KTM and Yamaha. If you are riding the complimentary tram, make sure to get off at Tram Stop 4 and walk down the hill at the entrance of Lot D to get to the Demo Rides. Registration for Demo Rides will begin at 8am each day, Friday-Sunday.
Vintage Japanese Motorcycle Club

Celebrating vintage motorcycles of all types, the VJMC gathering takes place in Lot D this year! If you are riding the complimentary tram, make sure to get off at Tram Stop 3 so you can enjoy motorcycle shows, items for sale, contests, awards, seminars, and much more!

Swap Meet

When restoring antique motorcycles, finding rare or specialty parts may prove to be a challenge. Swap meets are a great way to hunt down a unique piece of the puzzle. With more than 522 vendor spaces, the Barber Swap Meet includes European, Japanese, and American parts.
Shuttle drivers, Barber Motorsports Park, Barber Vintage Motorsports Museum, Zoom Motorsports, and their representatives are not responsible for transporting parts or merchandise that you purchase.